InfraStruXure
On-demand architecture for network-critical physical infrastructure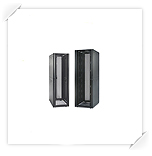 Racks and Accessories
Enclosures, Open Frame Racks, Wall-mount Enclosures, Consoles and KVM Switches.
Cooling Solutions
Cooling solutions for the IT Environment.
UPS
Back-Up power protection solutions from desktop to datacenter to custom-built industrial UPS systems.
Management
Management tools to remotely monitor and control, easily and economically.
Security and Environmental
Video surveillance, access control, and environmental monitoring solutions.
Surge Protection and Power Conditioning
Surge protection, TVSS and line conditioning products to safeguard your equipment from everyday power surges, lightning strikes, and other power anomalies.
UPS Battery Replacement & Upgrade Selector
Rejuvenate your UPS with a battery upgrade option.